Quirky Video Wedding invites by "Lets Announce" 
www.letsannounce.com | Motion Graphic Video Wedding Invitations
 When and how did you start?
" We started off in 2015, we were working in Mumbai and then moved to Ahmedabad. Starting off was a difficult decision as we did not know anyone in the city. References played a major role and cold calling too" Says Kirthi Gulvadi . 
How did you come up with the idea? Your inspiration moment
We began working with event companies on wedding invites & we always got a good feedback from their clients. However, creating a new and exclusive invite was usually for big weddings and destination weddings. So we felt why not design a platform where getting video invites are not that expensive and everyone could afford having one for their wedding. Hence we came up with Let's Announce an online portal for wedding Video invites. With a friendly user interface and a simple process, anybody can now afford a video invite.
Brief about the organization and founding members
Let's Announce was formed by a husband and wife duo – Saurabh Rajput & Kirthi Gulvadi. They together came up with this idea of setting up an online store for video invitations. All the videos are done in-house by Saurabh and his team of artists. Kirthi takes care of the customer orders and business development.
Image Credit/ Source: letsannounce
The detailed journey, like what all you want to share with readers.
We started the website with just 10 videos; hoping people would respond and like our work. As the concept of a video invite was very new in India, initially we didn't have many conversions. It was also difficult for people to trust a website who sells video invites. But slowly and steadily the orders started coming in, we got appreciated for our work and our customers began putting up reviews on social media and recommending us to their friends. We also started getting orders from NRI's; who are familiar with the concept and we now cater worldwide! As a matter of fact, even couples from smaller towns choose us, as we have affordable invites.
We want readers to remember: When you think of innovative wedding invites, simply log on to www.letsannounce.com! We specialize in making memorable video invites that are amazing to watch from the beginning to end. Our invites are not just information put into 5 slides, we weave a magical story around your wedding details. Print invites are slowly fading away due to a lot of reasons and video invites are a rage now.
Video Credit/ Source: letsannounce
About funding, plans for growth
We are a self-funded company. We began with minimum capital and we still continue to reinvest our profits into the company. The fee that we provide our team and the workstations all are self-funded. We are growing steadily and positively and are also planning to add more event-related videos into our kitty. We've also recently started our digital e-invite section and we are getting a good response for this too.
 Challenges and Opportunities/ Marketing Strategies
Ahmedabad was relatively a new market for us. Initially, conversions were very difficult. But after creating our own e-com portal; we have seen an increase in sales. Most of our clients come through our YouTube channel and Instagram. We have made a strong social media presence and with regular updates, we have got a good response.
Future plans and funding
We are definitely looking for an investor, who would trust our products and our vision. This will help us capture the market as soon as possible and flourish in all the categories we have in mind.
A quote from the founder on the journey, or dealing with the challenge, or any inspiring moment.
Enjoy what you do and if the market loves you too, you are on the right track.
 EXCLUSIVE: Founder's advice to budding entrepreneurs
You have a dream, go for it. Have patience; the first 6-8 months of your business may not yield anything. Do not lose hope, because these are your struggling days, people will try to bring you down and ask you to do things for free too. But it is your effort and you cannot let anyone take you for a ride. Use client references wisely and live up to client expectations. Always give more than your client expects, and the quality of output you provide should never be less than your capability and expertise. Stop judging yourself or your client, and most importantly enjoy your work.
Provide some statistics like revenues or clients acquisitions etc.
We've created over 250 wedding invites by now! Our video Invites have reached to more than 35000 in India and 20000 people abroad.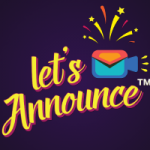 Your website / apps / and contact details
Call or Whatsapp on +91 9727637869
Or drop an email to letsannounce@gmail.com