Infertility is being talked about behind closed doors, hushed around in the street corners and looked at from the corner of one's eyes. More than it being an issue of physical wellness, it is becoming more of a mental issue creating mental trauma and emotional pain, thanks to the way the society is portraying it without any ounce of kindness to the persons suffering from it.
Infertility Dost is India's first website that facilitates couples to brave infertility with support and knowledge. Infertility Dost was started in August 2016 by Ms. Gitanjali Banerjee with a vision to reach out to the society and people, breaking stereotypes and prejudices on the issues surrounding infertility. With Infertility Dost, they aim to disrupt the way people manage infertility and the way society looks at this issue.
The Formation Of Infertility Dost
Fighting the then long and grueling years of infertility post 5 miscarriages, 3 molar pregnancies, 1 failed IVF and a brush with ovarian cancer, Gitanjali finally succeeded on second IVF attempt. After the roller coaster journey of her life towards motherhood, she realized about the pain and the social disdain that every woman with infertility issues undergoes. Throughout her journey, she has to tolerate the unimaginable and humiliating experiences that take a toll on her mental wellness. Society, on the other hand, has no idea about the pain of infertility and people end up hurting by passing shallow comments.
It is startling that there is no neutral platform and especially no woman who comes up and says, "Yes, I have gone through it, I know it is not easy but got to keep going". 1 in every 4 couple in India is fighting some or the other form of infertility and it was high time for someone to come out of the infertility closet and that's what Gitanjali did.
Overcoming her personal fears, she started Infertility Dost, reaching out to women who suffer in silence like she did, and brought real stories out. She made it her mission to make the society aware and acknowledge the pain, and most importantly help patients find the right doctor among the many malpractices and help them stay awake.
The Most Popular Yet Least Talked Issue – Infertility
Firstly, infertility is just a disease like any other. Irrespective of rural or urban, being infertile is just a social taboo. No one really talks about it, making the situation complicated for the women undergoing the situation and for us to help out. Lack of education on the subject has created bubbles of myths and imagination, on which the astrologers and unwanted elements in the society bank on.
It is believed that nearly 15% of the Indian population suffers from some form of infertility. Research, in fact, indicates that India has witnessed a 20-30% surge in infertility cases in the past 5 years. The volume of people affected by it sums up to be more than 150 million. Every year 10 million new cases are adding up in India. There are 2.7 million couples who are seeking to become a parent.
Despite the medical problems like PCOD/PCOS etc, there are lifestyle choices like disrupted work schedule, unhealthy eating habits, alcohol, drugs, smoking, etc due to which one becomes infertile, apart from the age factor. Yes, age does play a role, but the right actions towards one's health can delay the age.
Infertility is not an emergency problem that one dies if not treated on time. However, the social and personal life deteriorates. Couples don't want to ask for help for the fear of being tagged. They either keep delaying the treatment until it is too late or wait at the bylanes of wrong-doers and unethical practitioners.
When asked about her experiences with helping women with infertility, Gitanjali says, "Sadly, our society doesn't boldly recognize the issue of infertility and a reason to be talked about openly.  For example, a young, talented girl gave up working with us as her parents thought that this work would not be suitable to her working profile and that she might not find a groom. Similarly, many women got help from us and have now conceived but when asked to review us or leave a feedback on our social media they would not agree as they did not want anyone to know that they had infertility problem or the child is conceived through IVF."
Amongst all such challenges, Infertility Dost has become a frontrunner and an exclusive website, fighting infertility from the root cause.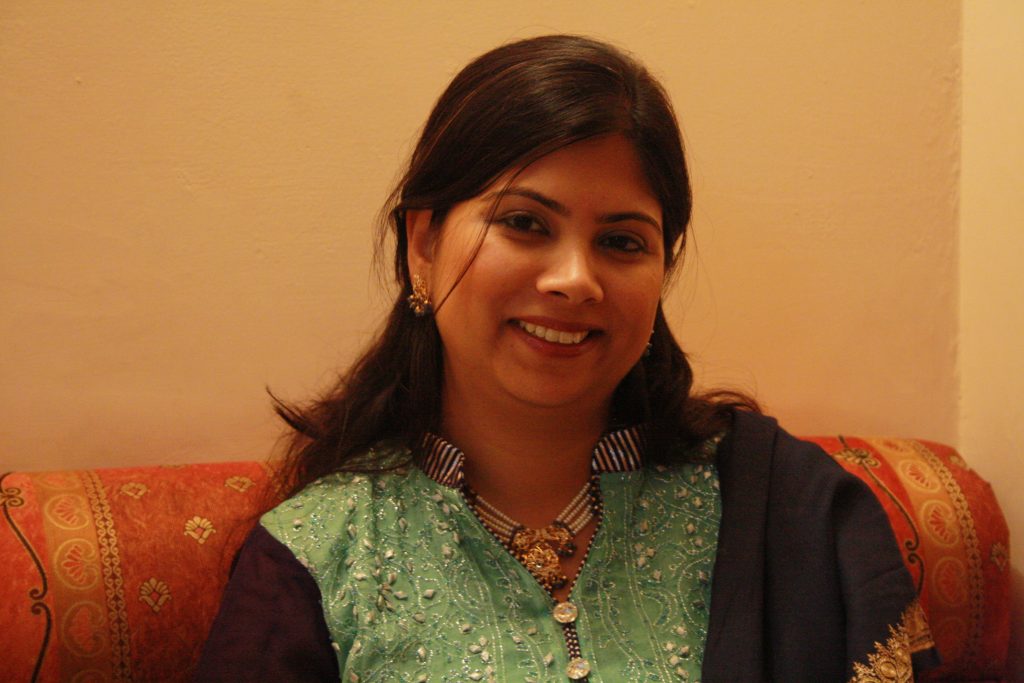 Image Credit/ Source: Ms. Gitanjali Banerjee (Founder: Infertility Dost )
What Does Infertility Dost Offer?
InfertilityDost offers a unique digital platform where women can meet their fertility goals. It combines technology, behavioral science, and social support to design cost-effective ecosystem that provides end to end solution with a holistic approach. It inspires and enables women to take control of fertility in their hands.
Fertility Wellness Kit
Fertility kit is an algorithm based online tool that combines results from diagnostic hormone test ( blood sample testing) and behavioral/lifestyle pattern ( psychometric testing) to provide a Fertility quotient which along with the guided ecosystem of content, community, counseling and community aims to motivate users towards fertility wellness.
Fertility wellness is designed both as a preventive tool for reproductive health and as self-management ecosystem for an in-fertility journey.
Benefits : 
Fertility Kit helps save 50% of the cost of testing as compared to regular testing. Provides more holistic results and interpretation of the issue as it takes into account behaviour and lifestyle patterns apart from medical test results. All in one platform without running to different stakeholders as is requisite of the current system of fertility management.
Use of fertility kit helps eliminate the requirement of the first level of physical consultation at a clinic which is often clouded with shame in a current social scenario and is a time-intensive uncomfortable experience. Fertility kit is a home-based, self-discovery and management tool.
Many women/couples undergoing fertility issue don't even realize the problem until it is too late. Fertility Kit works as a health management system at a preventive stage itself reducing escalation into chronic health issues of a later stage.
Provides a safe and hassle-free environment to openly talk about fertility issues.
Infertility Dost provides digital health coaching when a patient connects with their fertility counsellor who handholds her throughout the journey. They offer curated expert service based on an individual's need and empower them with information and community support. The system is built with a holistic approach to the issue of infertility, which enables them to address and handle all types of fertility patients from early detection to beyond IVF.
In order to increase the success results, they combine alternative treatment methodologies like fertility nutritionist, lifestyle management, and fertility counselling along with Allopathy. Fighting the dogma of infertility, InfertilityDost offers a vast knowledge platform, which is curated for every individual in alliance with a doctor, counselor, and medication. They are a small team of 5 people with a content writer, lawyer, technical engineer, doctors, and experts.
Video Credit/ Source: Infertility Dost
Bring Change In The Society
More than 150 million couples in India suffer infertility in pain and silence. We need to give them an understanding of social environment so that they can manage infertility better. We must educate the society by Spreading awareness and talking openly about infertility.
Empower Women
Often it is seen that it is the woman who bears the brunt of infertility. The social and family pressures play havoc with their life which actually comes to a standstill. They forgo their career, become reticent, and add to it the physical trauma of treatments. Amidst all this, women begin to question their self-worth. They get influenced and take wrong decisions. We want to empower woman by providing support and information to take the right decision and to follow the choice that makes them (and only them) happy.
Inspire Women
With real-life stories, we inspire and educate. We openly talk about various aspects of this journey so that they don't feel alone. Couples undergoing infertility treatment just need a sensitive environment to heal their emotional bruises and fight back with grit.
The Feathers In The Crown Of Infertility Dost
InfertilityDost recently won a gold medal and grant from DST under a program conducted by WEE and IIT Delhi and has also been featured in various publications including YourStory and Better India. Infertility Dost has partnered together with The Times of India for the second consecutive year in 2018 holding fertility talks in various places in India trying to create the awareness about fertility issues and helping them to find a forum to pour their heart out.
Gitanjali advices women with infertility to fight, stay strong and be on alert. "Take well-informed decisions about treatment without letting desperation manipulate your mind. Don't hold back your life for this is just a part of life and not a whole of it. Move on if you get stuck somewhere in the treatment," suggests Gitanjali.
There is also a mobile application on the line for people struggling with infertility issues to get help directly through the application. And there is also a mega project coming up which helps women to know the status of their fertility well beforehand and plan their family accordingly.
On a parting note, Gitanjali adds, "Think from your mind and don't let your heart cloud your decision-making process. Keep an open mind and be always on a lookout for options. Life can be made beautiful if you put your heart into it and find ways to make yourself happy."
Reach us : 
Url: http://infertilitydost.com/
Facebook Page Url : https://www.facebook.com/infertilitydostindia/